Akhirnya The Blues mampu melanjutkan tren positif. Setelah tengah pekan kemarin menang telak terhadap Maccabi Tel Aviv di Liga Champion, akhir pekan ini Chelsea menjamu salah satu calon unggulan juara liga, yaitu Arsenal. Nuansa persaingan antara dua klub london ini sangatlah kental. Selain karena merupakan derby satu kota, atmosfir pertandingan selalu panas terkait dengan kedua manajer yang selalu beradu tanduk di dalam maupun luar lapangan. Jose Mourinho dan Arsene Wenger memang tak pernah akur.
Bagaimanakah jalannya pertandingan semalam? Berikut highlights Chelsea vs Arsenal semalam.
Baca juga artikel Chelsea kembali ke jalur kemenangan?
Pada pertandingan semalam, intensitas jual beli serangan mampu menutupi persaingan di luar lapangan hijau. Pertandingan yang benar-benar panas. Bagaimana tidak, baru satu babak berlangsung, tim tamu sudah kehilangan satu pemain akibat kartu merah. Siapa aktornya? tak lain dan tak bukan adalah Diego Costa. Setelah sempat ribut, akhirnya bek Arsenal Gabriel Paulista mendapat kartu kuning kedua. Yang menjadi lucu, awalnya adalah Laurent Koscielny yang beradu fisik dengan Costa. Nah pengin jadi pahlawan, Gabriel beradu mulut dengan Costa mengakibatkan wasit Mike Dean memberi kartu kuning untuk keduanya.
https://vine.co/v/eUV95e7jPzw
https://vine.co/v/eUYju6u1UVv
Gol pertama Chelsea dilesakkan melalui sundulan Kurt Zouma. Berawal dari tendangan bebas Cesc Fabregas, Zouma yang berperan menggantikan Terry menyundul bola dengan keras. Mantan kiper legenda Chelsea, Petr Cech pun harus memungut bola yang pertama dari gawangnya.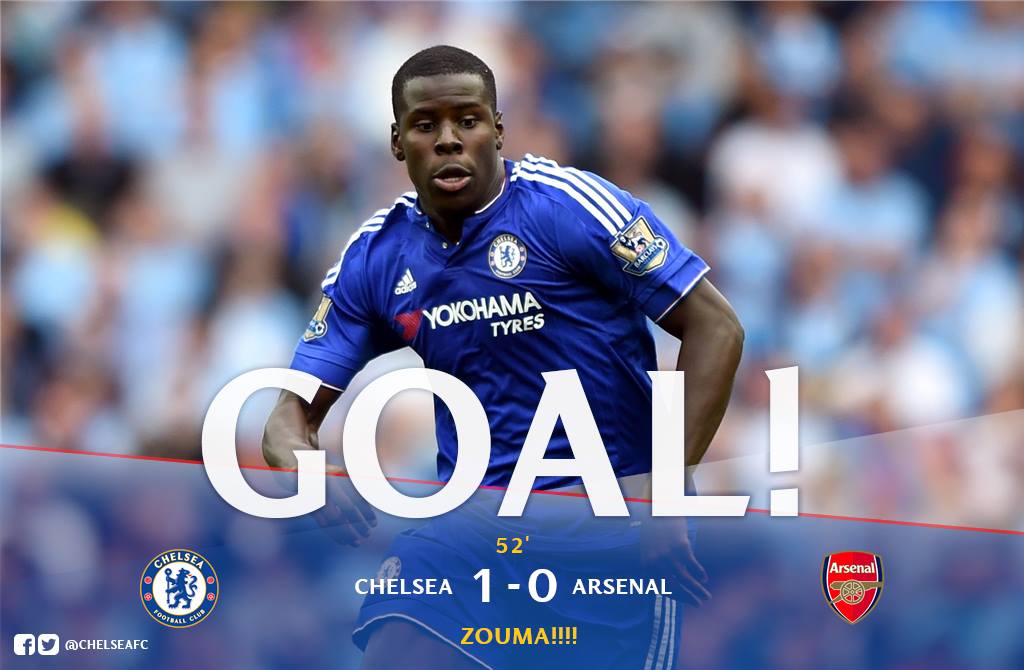 Pada pertengahan babak kedua, Arsenal kembali harus kehilangan pemainnya. Dan kali ini Santi Cazorla yang harus segera meninggalkan lapangan akibat kartu kuning kedua.
Unggul dua pemain, serangan Chelsea semakin gencar, walaupun tidak terlihat ngotot. Costa, Hazard, Oscar, dan Pedro saling bergantian menciptakan peluang. Namun gol kedua baru didapatkan di menit tambahan sebelum berakhirnya pertandingan melalui tendangan keras Eden Hazard yang berbelok saat menyentuh tubuh bek Arsenal.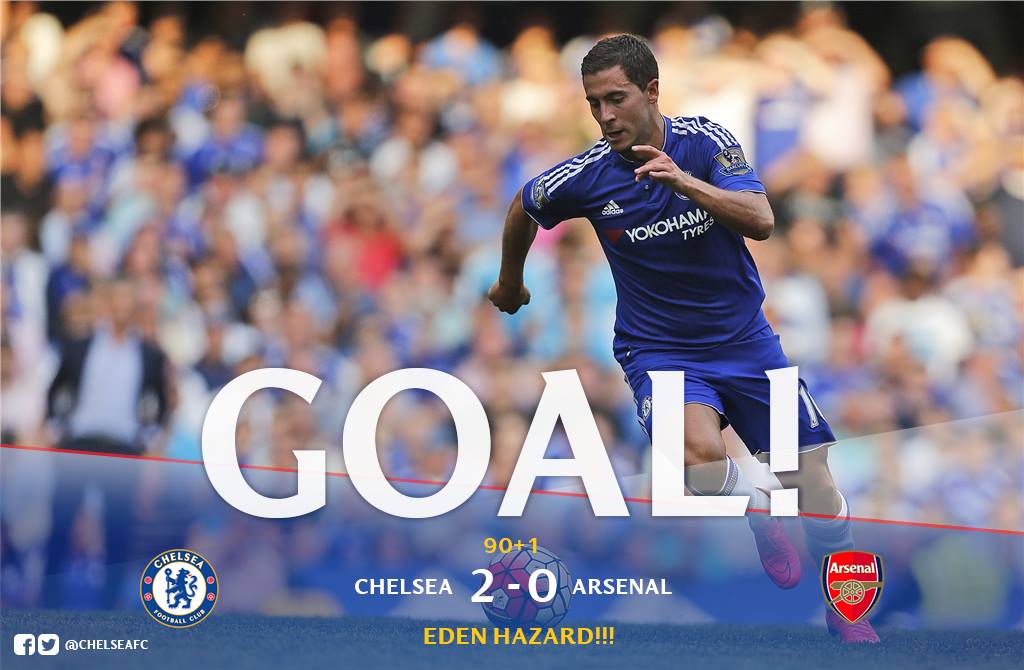 Skor 2-0 merupakan akhir dari derby panas kota London. Semoga saja tren positif ini terus berjalan baik di liga maupun di Liga Champion.
Anda belum menonton pertandingannya? Berikut sedikit cuplikan highlights Chelsea 2-0 Arsenal via Vine.
https://vine.co/v/eUY6AvBAOYm
Selamat The Blues. Keep The Blues Flag Flying High!!!